Transport Management
Focus on your core business, while we manage your logistics.
Fully geared to deal effectively with exceptions and customer specific requirements, we connect you to the world's best transport companies. All available from one single Transport Management System.
Your logistics under control
Achieve full supply chain visibility thanks to our advanced logistics solutions combined with a team of logistics professionals.
Base Logistics selects the most suitable carrier for your shipment. To do this, our logistics specialists make use of our knowledge and historical data.
With a pre-integrated network of supply chain partners, we provide access to all modalities through our advanced platform Klairy, including transport status information. From global integrators to specialized local heroes.
Express for fast and accurate delivery of high-priority shipments.

Exclusive charter or consolidated shipment via Airfreight.

Overcome long distances in the most economical way with Seafreight.

Road freight for Door-to-Door or Warehouse-to-Warehouse transport by local specialists throughout Europe.
Exception Management
We are fully geared to deal effectively with exceptions and customer-specific requirements. If there is any hitch in the process, you will be informed quickly. At each level in your organization, users can easily identify exceptions through one single system.
Our Control Tower monitors all the shipments closely and proactively, 24 hours a day and 7 days a week. We manage any issues that occur in the process. When deliveries progress entirely to plan, you will not receive any superfluous messages. Leaving you free to concentrate on your core business.
Communication
Send automated notifications to any stakeholder in your supply chain. Allowing for timely action, our logistics application Klairy gives you pro-active warnings in case of delay. Thousands of unique carrier exceptions are simplified to standardised transport statuses.
Escalate any issues via our actively monitored Support Ticket System. All the correspondence and appendices will be linked with the relevant order.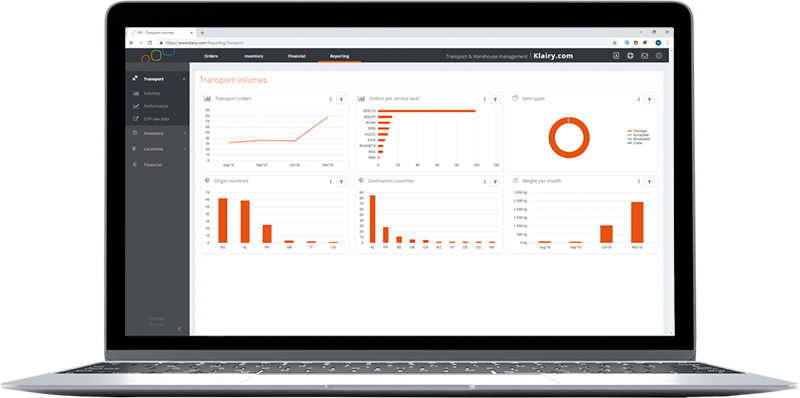 Quality
We apply the highest quality standards to control to ensure the best result. Therefore, we measure the 'On Time Performance' of our supply chain partners daily. Beside our ISO 9001:2015 certification we meet the standards of ISO 13485:2016, for medical devices.
Also, we comply with the strict requirements of the Customs authorities, which is why Base Logistics has been given the status of Authorised Economic Operator (AEO). Thanks to the AEO certificate, our customers are much less likely to suffer delays through inspections.
Do you have any questions?
Please leave your contact details using the form below. We will contact you as soon as possible after receipt of your message.