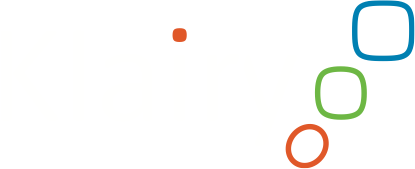 Our cutting-edge logistics application Klairy was designed to minimize business risks and save our clients time.
In full control
Klairy helps you gain visibility into the logistical milestones, enabling you to spot exceptions in time. Notifications and alerts can be set up easily. If the delivery is going entirely to plan, you will not receive any superfluous messages. If a delay occurs in the shipment cycle, Klairy alerts designated recipients. This leaves you free to concentrate on your core business.
Innovative logistics application
Klairy was built in-house to fulfill the needs of our highly demanding customers. We continuously develop this smart logistics application, to ensure our leading role.
Available on any type of device from a mobile phone to your laptop in your internet browser, no applications to download! It is of course also possible to integrate Klairy with existing systems.
Transport Management
With Klairy you will find it easy to plan new shipments and keep a total overview via a central dashboard screen, irrespective of the type of shipment. Via Base Logistics you have access to hundreds of specialist companies, each with its own specific strength or expertise.
Transparent
Our logistics application also makes the processes transparent and monitors the agreements made. You can consult your own On Time Performance. This helps to determine the service level that your customers experience.
Transport documents
Klairy automatically provides the most common transport documents, thus taking a lot of work off your hands in respect of international shipments. All you really have to do is print out the documents.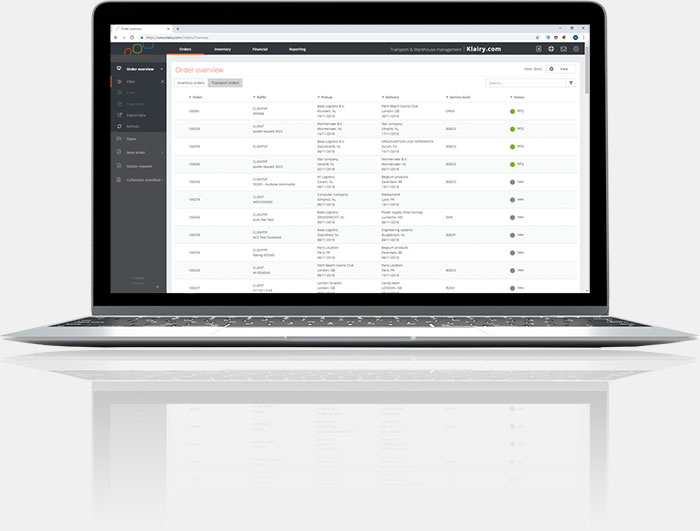 Warehouse Management
Klairy gives you complete control with insight into your stocks and goods flows. Wherever in the world your materials are stored, in one of our secure warehouses or in your own premises. You decide which important facts or figures you want to display.
Quality
Structural audits and pick verification guarantee a consistently high quality. In addition, Base Logistics provides periodic automated cycle counts. Base Logistics provides an accurate check of your goods descriptions. This avoids delays owing to problems with the descriptions during the transport.

Dual-use
We also check the Parts Master on the basis of, among other things, the Export Control Classification Numbers (ECCN). ECCN numbers are important for determining the degree to which products can be classified as dual-use goods.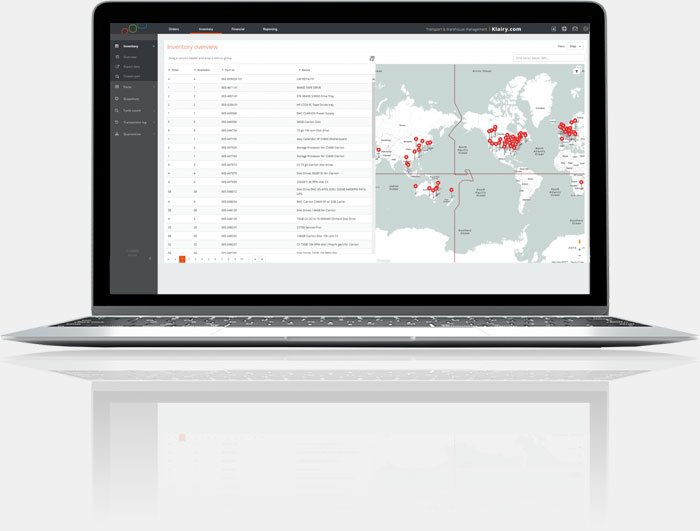 Finance Management
Klairy shows you all the invoices at a glance, including their payment status. Via Klairy you can also download your own delivery notes and lists for your VAT and customs declarations.
Specification
Your invoices are specified according to your requirements and you can choose between one collective invoice or split by costs, users or departments.

Export

Every invoice is available digitally. Naturally you can export all the data to Excel, so that you can process the data further.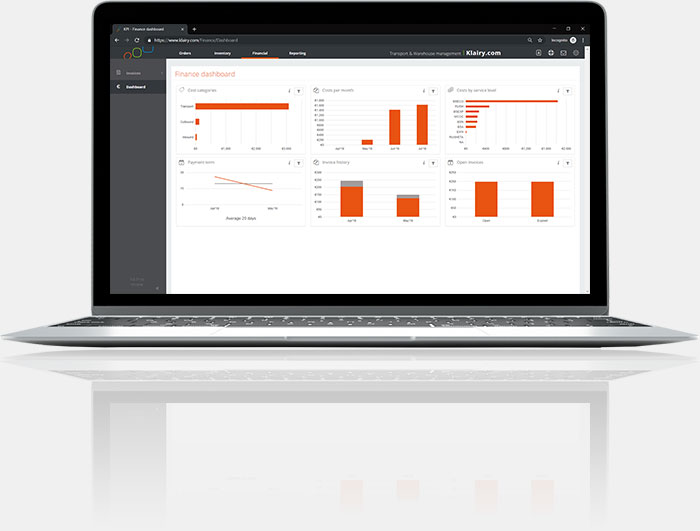 Reporting
Klairy gives you total insight into your stocks and goods flows, including Key Performance Indicators and strategic stock levels – where and whenever you wish. Allowing for user-specific access levels, Klairy makes logistics conveniently available at any level. You determine which important facts and figures you want to see displayed. Moreover, all the information is available in real time. Within Klairy you will find a range of more than 20 different standard reports and many export tools for raw data.
MIAS
Unique to Klairy is the tool that shows you your inactive stock, known as MIAS (Material Inactive Stock). MIAS is a powerful tool for reducing your stocks.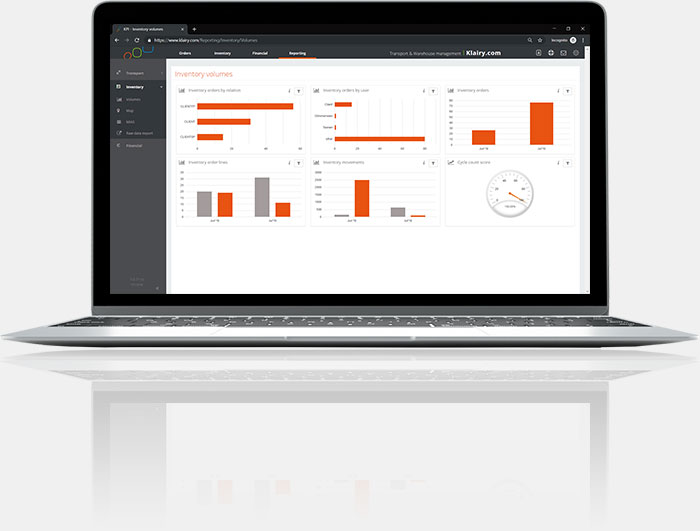 Compliance
Klairy provides tools for restricting the growing business risks in the area of customs and compliance. Klairy generates automatic messages as soon as orders are non-compliant, which may be on the grounds of product descriptions, sanctioned countries, blacklisted companies, etc.
History

Thanks to the detailed information contained in Klairy, such as serial and batch/lot numbers, you can immediately consult the full history of a product.

Checks
Base Logistics carefully checks your Parts Master in advance. Careful checks are also carried out when planning the transport, to prevent any problems in descriptions from causing delays during the transport.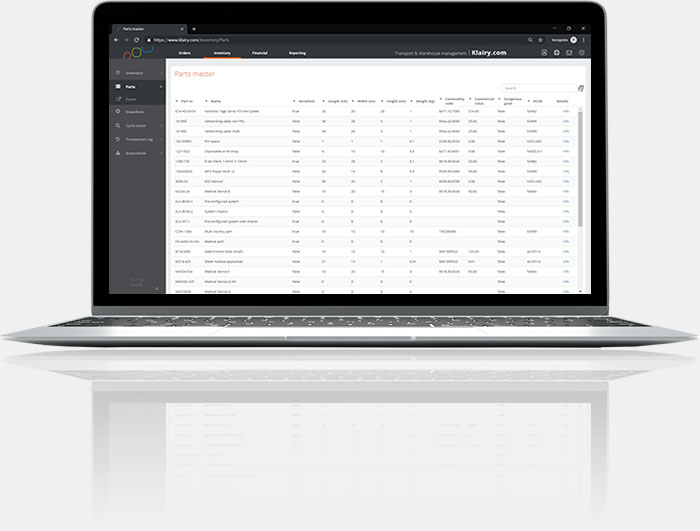 Support Tickets
Klairy makes communication on your logistics very clear, thanks to the integrated support ticket system. For questions regarding invoicing, stock or transport orders, you can create a support ticket in Klairy.
Quick response

All the correspondence and appendices will be linked with the relevant order. Base Logistics keeps a close eye on response times for support tickets, so that you never have to wait long for an answer.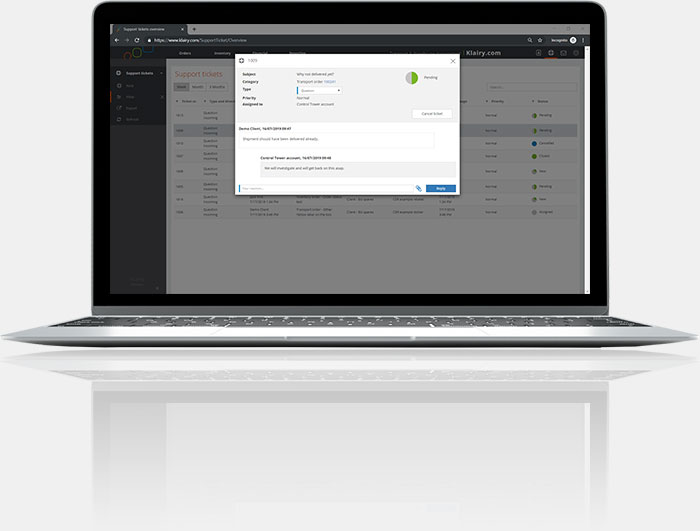 Do you have any questions?
Please leave your contact details using the form below. We will contact you as soon as possible after receipt of your message.